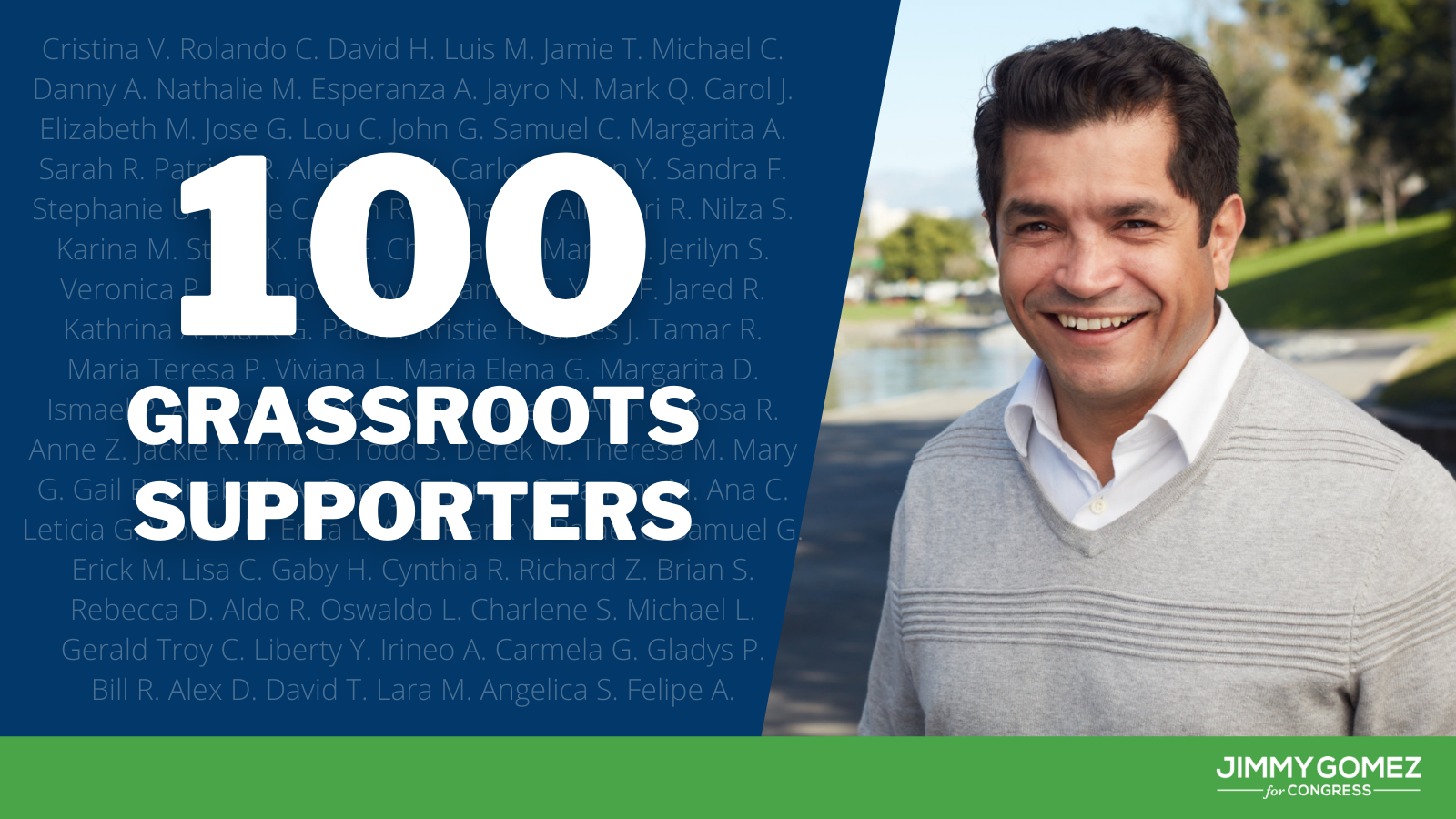 In addition to recently announced organizational support, Congressman Jimmy Gomez recently published a list of over 100 prominent local voters and grassroots community leaders supporting his re-election.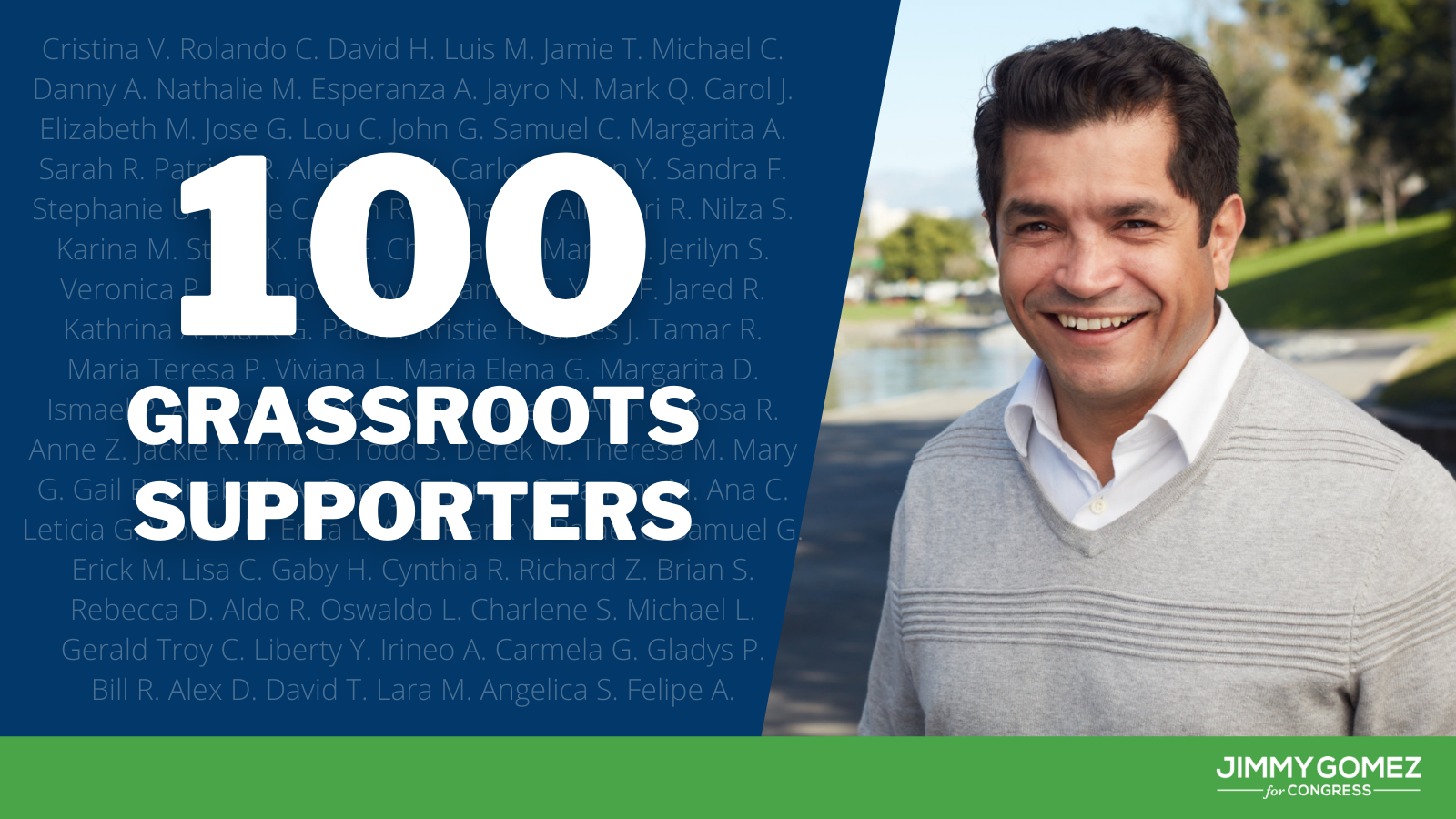 Los Angeles, March 30, 2022 – Continuing to build his campaign and momentum heading into the end of March, Congressman Jimmy Gomez released an impressive list of 100+ grassroots supporters and organizers already mobilizing behind his campaign.
Said Congressman Gomez: "As a lifelong organizer who has worked for working families, nurses, and progressive causes, I know that the diverse voices of the voters themselves across my district are the most powerful force in this, or any campaign. I am honored to be supported by such a strong and growing coalition of grassroots supporters and community leaders."
The official campaign list can be found below. It will also be available and updated throughout on the campaign website.
Grassroots Community Leaders for Jimmy Gomez:
Kathrina Abrot, Felipe Agredano, Paul Ahrens, Margarita Amador, Danny Andalon, Elizabeth Andalon, Esperanza Andalon, Irineo Andalon, Gail Burns, Felipe Caceres, Lou Calanche, Gerald Troy Carbajal, Lisa Cassandra, Christian Castro, Rafael Chagoya, Arturo Chavez, Michael Contreras, Samuel Cornejo, Ana Cubas, Rolando Cuevas, Margarita Darett, Alex De Ocampo, Rebecca Doten, Rick Eng, Sandra Figueroa – Villa, Yolie Flores, Irma Galicia, John Gallogly, Mary Gallogly, Maria Elena Garcia, Jose Gardea, Samuel Garrett-Pate, Carmela Gomes, Mark Gonzalez, Genny Guerrero, Leticia Guevara, Kristie Hernandez, Gaby Hernandez-Gonzalez, David Huerta, Carol Jacques, James Johnson, Steve Kang, Jackie Kim, Viviana Ledezma, Michael Lee, Carlos Leon, Erica Liepmann, Oswaldo Lopez, Karina Macias, Erick Martell, Derek Mazzeo, Luis Melchor, Tammy Membreno, Elizabeth Meza, Nathalie Mezacontreras, Theresa Montano, Lara Morrison, Jayro Nunez, Mario Olmos, Mary Rose Ortega, Maria Teresa Palacios, Alvin Parra, Ismael Parra, Roy Payan, Gladys Pinto Munoz, Veronica Polanco, Mark Quiroz, Aldo Ramirez, Sarah Rascon, Patricia Recinos, Rosa Rivas, Jared Rivera, Juan Rodriguez, Tamar Rosenthal, Ari Ruiz, Cynthia Ruiz, Bill Rumble, Bamby Salcedo, Antonio Sanchez, Brian Sanderson, Todd Sargent, Nilza Serrano, James Smith, Angelica Solis-Montero, Jerilyn Stapleton, Jacob Stevens, Al Strange, Charlene Suneson, Jamie Tijerina, Michael Tonetti, David Trujillo, Ali Tweini, Violeta Urbina, Stephanie Uy, Alejandra Valles, Cristina Vazquez, John Yi, Frank Yorba, Liberty Yorba, Richard Zaldivar, Anne Zerrien-Lee