Congressman Jimmy Gomez is a proven progressive who delivers for the people. When our communities were being decimated by the pandemic, Jimmy sponsored and helped pass the following life-changing pieces of legislation, programs and funding to help working people survive. This included:
American Rescue Act – the COVID Relief bill that helped people pay for food and rent, and helped protect jobs and keep small businesses open during the pandemic
The enhanced and expanded child tax credit to provide monthly payments of $250 – $300 per child, per family; putting money directly in their pockets to help them pay for food, rent and other essentials
The Paycheck Protection Program, the Economic Injury Disaster Loans, and the Restaurant Revitalization Fund that provided a financial life-line to small businesses in our communities to help them stay open and keep their workers employed and paid
Emergency Rental Assistance Program – to help keep families in their homes by making funding available to people that were and are unable to pay rent or utilities. 
Emergency housing and homelessness funding to help create housing for individuals and families experiencing homelessness or at risk of homelessness, like the Hilda Solis Village in Chinatown
And successfully fought to extend the eviction moratorium by protesting on the Capitol steps with Representatives Cori Bush, Alexandria Ocasio-Cortez, Mondaire Jones and Ayanna Pressley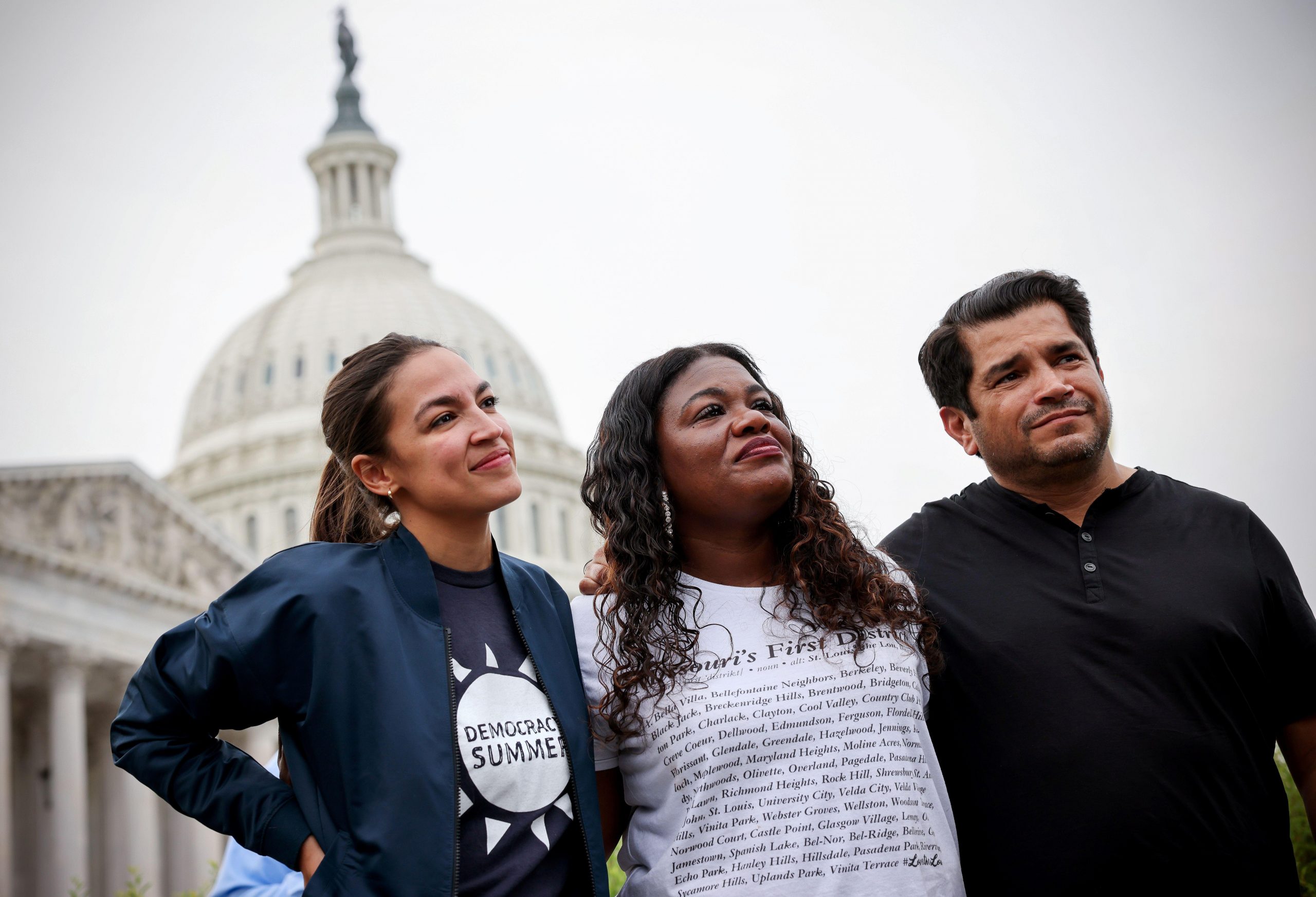 Jimmy sits on the Oversight and Reform Committee and the Ways and Means Committee. He is the real proven progressive that we need in Congress and who has a track record of delivering for us. He takes on the tough fights and wins. 
Jimmy is also a founding member of the Medicare for All Caucus and the Expand Social Security Caucus.
"Congressman Jimmy Gomez has stood up and fought for progressive values during his short-time in Congress. He has opposed Trump's anti-immigrant policies, supported Medicare for All and fought to protect our environment." – Senator Bernie Sanders, October 15, 2018.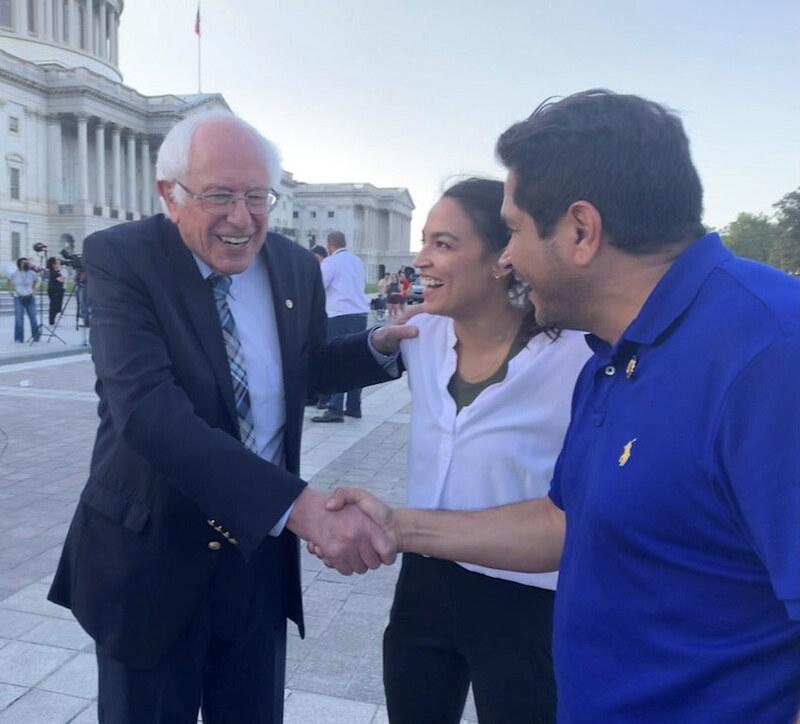 Jimmy has either sponsored or cosponsored more than 200 pieces of progressive legislation including: 
Medicare for All Act – H.R. 1384
Green New Deal by Representative Alexandria Ocasio-Cortez – H. Res. 109
George Floyd Justice in Policing Act of 2020 – H.R. 7120
Emergency Money for the People Act – monthly cash assistance – H.R. 6496
Dream and American Promise Act – H.R. 6
Rent Relief Act, with Senator Kamala Harris – H.R. 2169 & S.1106
For the 99.8% Act, with Senator Bernie Sanders – H.R. 4857 & S. 309
For the People Act – H.R. 1 
Congressman Gomez has distinguished himself as a progressive champion in Congress. Here are the details:
Healthcare
Cosponsor of the Medicare for All Act. Every term since being elected to Congress in 2017, Jimmy has cosponsored legislation to enact Medicare for All. Congressman Gomez grew up without health insurance and understands the burden it placed on his family. That's why Congressman Gomez, Senator Bernie Sanders and the Progressive Caucus are fighting to pass Medicare for All, so other families don't have to go through the same thing as his family. Medicare for All would provide comprehensive benefits, lifetime enrollment, no premiums, lower prescription drug prices, and much more.
As a member of the powerful Ways and Means Committee, Congressman Gomez participated in hearings on Medicare for All, and was featured in a video by Senator Bernie Sanders in this effort.
Additionally, Jimmy is a founding member of the Medicare for All Congressional Caucus in the U.S. House of Representatives. The primary purpose of the Medicare for All Caucus is to build a political voting bloc that will fight for and pass legislation to implement Medicare for All.
Original cosponsor of The Lower Drug Costs Now Act which will lower drug costs by giving Medicare the power to negotiate directly with drug companies, makes lower drug prices negotiated by Medicare available to all Americans, stops drug companies from ripping off Americans while charging other countries less for the same drug, and limits the out-of-pocket costs for prescription drug for Medicare beneficiaries.
Jimmy introduced the Jeanette Acosta Invest in Women's Health Act with Senator Patty Murray to increase the availability of preventive, life-saving cancer screenings at safety net and reproductive health care providers like Planned Parenthood.
Author, Language Access for Medicare Beneficiaries Act. This bill would require Medicare's enrollment materials to be translated into additional languages beyond English and Spanish. Congressman Gomez previously called for this action in a letter signed by 62 of his colleagues in May.
Other cosponsored legislation includes: H.R. 1516 – Healthy Families Act, H.R. 5942 – Health Equity and Accountability Act.
Women's Rights
Jimmy is the ONLY candidate in 34th Congressional District endorsed by the Planned Parenthood Action Fund and NARAL Pro-Choice America because of his unwavering commitment to women's reproductive rights and gender equality. Jimmy received the Champion of Choice Award from Planned Parenthood for his legislative accomplishments on behalf of women and families. In the California State Assembly, Jimmy was the Chair of the Select Committee on Domestic Violence to help raise awareness and knowledge on strategies, legislation and programs needed to decrease the incidence of intimate partner violence, while providing additional support to victims.
Jimmy cosponsored and voted to pass the Women's Health Protection Act of 2021 to codify Roe v. Wade in federal statutes, thus ensuring a right to an abortion before fetal viability.
Jimmy opposes the Supreme Court of the United States ruling that overturns Roe V. Wade as the law of the land and undermining the right to privacy of women and all other Americans.
Jimmy sponsored the Jeanette Acosta Invest in Women's Health Act, (H.R. 3129) with Planned Parenthood to help local healthcare providers better serve their patients and ensure everyone has access to life-saving cancer screenings.
Jimmy sponsored and helped pass the Violence Against Women Reauthorization Act to "improve prevention and response to sexual violence, including increased support for the Rape Prevention and Education Program and Sexual Assault Services, and enactment of the Fairness for Rape Kit Backlog Survivors Act."
Jimmy supports equal pay for equal work, the Paycheck Fairness Act and will fight the GOP's war against women and access to health care.
Jimmy supports rigorous enforcement of Title IX, and foreign policies that help women break through social, legal and economic barriers throughout the world.
Environment
Original Cosponsor of the GREEN NEW DEAL by Alexandria Ocasio-Cortez. Jimmy knows that climate change poses an existential threat to our planet and everyone on it. Bold legislative actions are required to reverse the environmental, health and economic damage caused by global warming to communities across the globe before it's too late, which is what the Green New Deal would provide.
Lead Cosponsor, Climate Solutions Act of 2019 to require that 100% of electricity sold in the United States be generated by renewable sources by 2035. Energy consumption accounts for 73 percent of all greenhouse gas emissions worldwide. Congressman Ted W. Lieu and Congressman Gomez introduced one of the boldest climate bills in Congress.
Sponsor, Affordable EVs for Working Families Act. To reduce overall greenhouse gas emissions in the US we also need to get more electric vehicles on the road. That's why Congressman Gomez introduced the Affordable EVs for Working Families Act to lower the cost of EVs and help get more Americans access to cleaner transportation.
Sponsor, Home Energy Savings Act and New Home Energy Efficiency Act. Residential energy use accounts for roughly 20% of greenhouse gas emissions in the United States. This bill will lower energy costs for working families, while also combating climate change.
Cosponsored, California Clean Coast Act to permanently protect our coast from oil drilling and gas leasing.
Led efforts with Congressman Adam Schiff and Congresswoman Lucille Roybal-Allard to receive more funding for the Los Angeles River Restoration Project.
Other co-sponsored legislation includes: H.R. 4636 – Prioritizing Energy-Efficient Renewables Act of 2017, H.R. 4246 – No Drilling in Our Backyards Act, and H.R. 3039 – San Gabriel Mountains Forever Act of 2017.
Ending Police Brutality and Criminal Justice Reform
Cosponsor, George Floyd Justice in Policing Act. Congressman Gomez believes ending police brutality must be a top priority for Congress. This bill led by Congresswoman Karen Bass would hold police officers and departments accountable and increase transparency, make structural changes to our justice system, ban chokeholds and eliminate qualified immunity.
Leading investigation into systemic abuses by "criminal gangs" within the Los Angeles County Sheriff's Department. As a member of the Civil Rights and Civil Liberties Sub-Committee, Congressman Gomez is taking steps to investigate and expose aggressive policing tactics committed by 'clique" affiliated deputies and rid the Department of deputies who engage in them.
Cosponsor, A Resolution to Condemn All Acts of Police Brutality with Rep. Ayanna Pressley. This resolution condemns all acts of police brutality, racial profiling, and the use of excessive and militarized force throughout the country.
Voted to pass the FIRST STEP Act, which was signed into law, that shortened mandatory minimum sentences for nonviolent drug offenses.
COVID-19 Pandemic Relief
Voted for President Biden's "American Rescue Plan" which provided: 

$1,400 in direct stimulus payments to all Americans earning less than $75,000 per year
An extension of the enhanced unemployment benefits 
Almost $200 billion in school and educational assistance
Just under $50 billion in small business loans and grants
Over $60 billion for COVID vaccination, testing, and research programs
Expansions to healthcare subsidies, health centers, childcare providers, and the child tax credit

Sponsored the Emergency Money for the People Act to expand relief to more Americans and include a $2,000 monthly payment to every qualifying American over the age of 16 for up to 12 months. Congressman Gomez believes a one-time payment was not enough for people to survive during the pandemic.
Secured an additional $219 million in emergency rent relief for Los Angeles in May of 2021
Secured over $80 million in emergency funding for hospitals and community health centers in Los Angeles to help patients during the COVID-19 pandemic.
Helped secure and deliver personal protective equipment (PPE) to frontline workers and community organizations who did not have sufficient inventory for their employees or the public.
Voted to provide $1200 dollar direct cash payments to individuals.
Voted for the $600 per week in federal unemployment payments and fought to extend the payments when they were set to expire.
Voted to provide essential workers with $200 billion in hazard pay and guaranteed paid sick leave.
Voted for an additional $75 million for COVID-19 testing
Voted to pass over $1 trillion dollars in forgivable loans for local small businesses to help them survive the COVID-19 pandemic and the economic fallout.
Voted to defer student loan payments and voted to cancel up to $10,000 in student loan debt per person.
Immigration
As the first Congressperson elected after the 2016 Presidential election, Congressman Gomez was a leading and vocal opponent of all the Republican attempts to implement Trump's virulently anti-immigrant agenda.
Cosponsor, Dream & American Promise Act. Congressman Gomez cosponsored and voted to pass the Dreamers bill because it will protect immigrant youth who are DACA recipients and immigrants who have temporary protective status (TPS) from deportation, and provide them with a path to citizenship.
Cosponsored legislation to ban the use of private for-profit prisons and private detention centers with Congressman Raul Grijalva – H.R. 3227, Justice is Not For Sale Act.
Voted against Republican legislation to fund Donald Trump's border wall, his demand for more detention beds, and increased funding for ICE (H.R. 1892 – the Budget Act of 2018, H.R. 1625 – Consolidated Appropriations Act of 2018, H.R.1370 Department of Homeland Security Blue Campaign Authorization Act of 2017, H. JRes 123 and H.R. 195).
Visited the US – Mexican Border with over 20 organizations and hundreds of people to protest Trump's Child Separation Policy and demand the better treatment of undocumented children.
Introduced legislation (H.R. 6055) to prohibit the federal government from prosecuting local and state officials for implementing Sanctuary City laws.
Other co-sponsored legislation includes: H.R. 6326 – Reunite Separated Families Act of 2018, H.R. 3440 – Dream Act of 2017, H.R. 2788 – HEAL for Immigrant Women and Families Act.
Housing and Homelessness
In the summer of 2021, Jimmy successfully fought to extend the eviction moratorium by protesting on the Capitol steps with Representatives Cori Bush, Alexandria Ocasio-Cortez, Mondaire Jones and Ayanna Pressley.

Before that, in January 2020, Congressman Gomez led an effort with 64 other Representatives calling on President-elect Joe Biden and Vice President-elect Kamala Harris to use immediate executive action to extend the national eviction moratorium for the duration of the COVID-19 pandemic.
He is also an original cosponsor of the Rent and Mortgage Cancellation Act, which would cancel rent and mortgage payments nationwide through the end of the COVID-19 pandemic.

In the relief bill of December 2020, Congressman Gomez secured $2.6 billion in rental assistance for the state, and then through the American Rescue Plan Act, he secured another $235 million in rental assistance for the City of Los Angeles.
In 2019, Congressman Gomez worked with then-Senator Kamala Harris to introduce the Rent Relief Act of 2019 to help families earning stagnant wages while their rent increases.
Cosponsor, Ending Homelessness Act of 2019. This bill would appropriate $13.27 billion in mandatory emergency relief funding over five years to several critical federal housing programs and initiatives, providing the resources that these programs need to effectively address the homelessness crisis in Los Angeles and across the country.
Cosponsor of the Affordable Housing Credit Improvement Act of 2019 which would produce approximately 1.9 million units of new affordable housing over the next decade.
Congressman Gomez is also fighting for a robust funding increase for federal public housing programs including, Section 8 Housing Choice Voucher (HCV), and Project-Based Rental Assistance (PBRA) programs and more.
Congressman Gomez supports expanding the Fair Housing Act to bar discrimination based on sexual orientation, gender identity, marital status, and source of income (e.g., housing vouchers).
Working Families
Jimmy worked with Bernie Sanders to craft and introduce their bill, For the 99.8% Act. This bill will close a Trump tax loophole for billionaires while raising the trillions of dollars needed for essential services, including healthcare, education, housing and more. During the announcement of the bill, Senator Sanders said:
"The richest 400 billionaires pay lower taxes than everyone else. In my view, this obscene inequality in wealth and political power is not compatible with a democratic society. I am proud that Representative Gomez is leading three dozen members of the House in introducing the For The 99.8% Act to tax today's dynasty trusts and curb their power, while raising trillions of dollars for the essential programs we need as a country."
Cosponsor of Rep. Ayanna Pressley's resolution, H.Res.100, calling on President Biden to use executive authority to cancel student loan debt.

As a precursor to this, Jimmy wrote the Student Loan Tax Relief Act, which was passed as part of the American Rescue Plan Act of 2021, and eliminates any extra burden on student borrowers and paves the wave for student loan debt to be canceled by executive action.

Cosponsor of the Debt Free College Act to provide students the opportunity to attain a higher education without debt.
Cosponsor of College for All Act to make public colleges and universities tuition-free for working families and significantly reduce student debt.
Cosponsor of the Raise the Wage Act to increase the federal minimum wage to $15 dollars per hour. Jimmy also voted for a higher minimum wage in the California State Legislature.
Cosponsor of the FAMILY ACT to provide paid family leave and sick leave to families regardless of what state they live in.
Opposed and voted against the $2 trillion dollar tax scam that Republicans passed to benefit the largest corporations in the country at the expense of working families.
Opposed all efforts to cut Medicare, Social Security or Medicaid.
Founding member of the Expand Social Security Caucus.
Other co-sponsored legislation includes: H.R. – the Paycheck Fairness Act, H.R. 821 – the Child Tax Credit Improvement Act.
Prior to being elected to Congress, Jimmy Gomez was one of the most effective members of the California State Legislature. He passed laws and carried bills to expand paid family leave, promote environmental justice, prevent domestic violence, protect Planned Parenthood, disclose money in political ads, and stop President Trump's anti-immigrant orders.