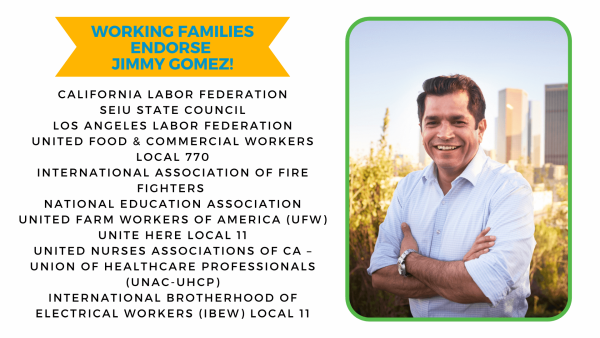 Los Angeles, April 21, 2022 – Beginning his career as a union organizer, Congressman Gomez has always had a strong connection to the labor movement, which is on full display in his latest round of endorsement announcements. From local to statewide to national and international unions, labor organizations highlighted his commitment to putting workers first, and his record of delivering for the people.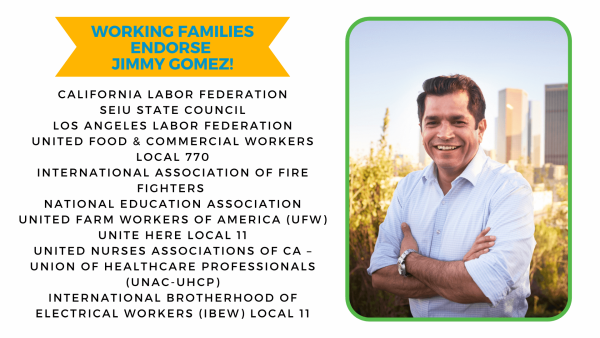 The Los Angeles Federation of Labor stated:
"As someone who started as a union organizer himself, Congressman Gomez is a proven progressive with a real track record of standing up for workers, from helping workers organize for better wages and benefits to expanding paid family leave in California. Jimmy takes on the tough fights and delivers results. That's why the working men and women of labor support Jimmy Gomez for Congress."
 Congressman Gomez added:
"Having the support of the men and women of the labor movement is incredibly meaningful for me. I know what it's like to struggle to make ends meet because minimum wage jobs don't pay enough to live off of. I know what it's like to grow up without health insurance and know first-hand the burden a family experiences when they don't have access to quality affordable healthcare. I first got involved in politics as a union organizer because I could see that labor unions were instrumental in the fight to make this country better for working families, and I will continue to fight for them in Congress."
Adding to Congressman Gomez's credentials as the proven progressive candidate of workers, the following unions are also all supporting his re-election campaign:
California Labor Federation
SEIU State Council
United Food and Commercial Workers Local 770
International Association of Fire Fighters
National Education Association
United Farm Workers of America (UFW)
Unite HERE Local 11
United Nurses Associations of California – Union of Healthcare Professionals (UNAC-UHCP)
International Brotherhood of Electrical Workers (IBEW) Local 11
Congressman Gomez knows that unions are indispensable for protecting workers and building the middle class, and this support will be a powerful ally for Congressman Gomez as he gears up for re-election in 2022.
###