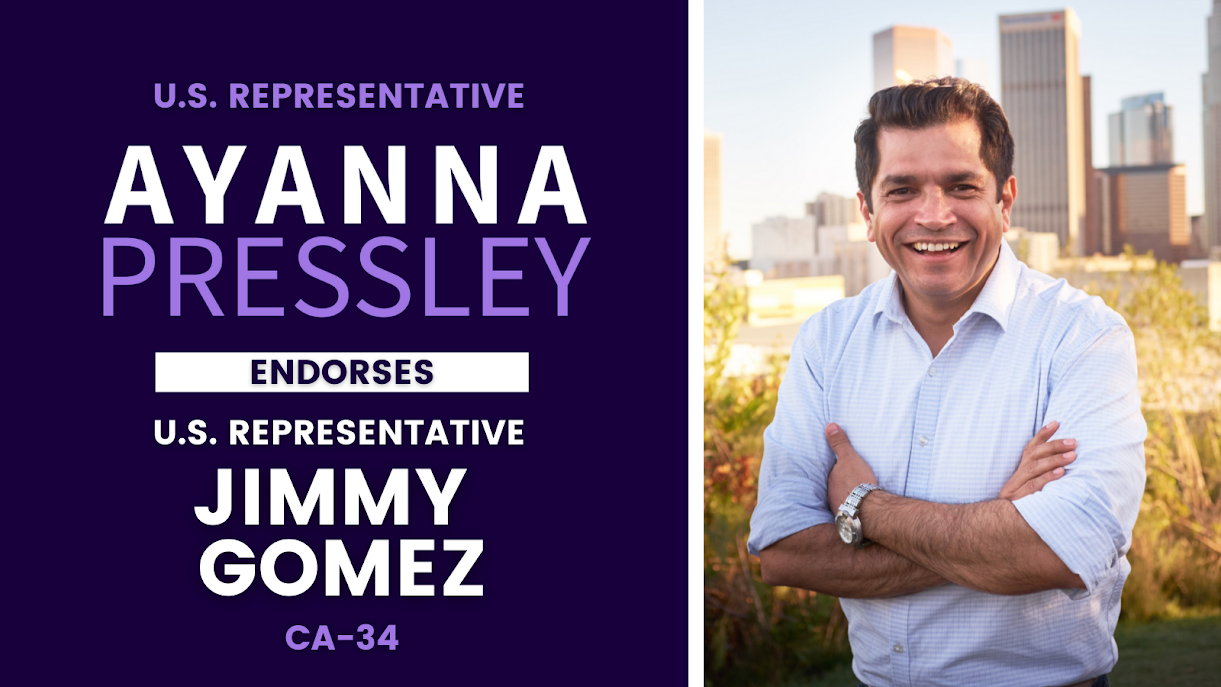 We are proud to announce that Congresswoman Ayanna Pressley has endorsed Jimmy Gomez for Congress!
"Jimmy Gomez has been a champion for the people of California's 34th District. I'm proud to serve with him on the House Oversight and Reform Committee – where we've fought to hold this rogue White House accountable to the people – and to work alongside him to fight for Medicare for All, to protect our immigrant communities, to end police brutality, and to support our workers.  In this election – along with taking back the White House and the Senate – we have the opportunity to re-elect leaders like Jimmy, who will fight tirelessly on behalf of our communities."  -Rep. Ayanna Pressley
Rep. Pressley joins the groups and people we trust to lead the fight for justice in supporting Jimmy Gomez!
VP Joe Biden
California Democratic Party
Los Angeles County Democratic Club
Our Revolution
End Citizens United
Congressional Progressive Caucus
Los Angeles County Federation of Labor, AFL-CIO
United Farm Workers of America (UFW)
Sierra Club
Planned Parenthood Action Fund
Stonewall Democratic Club
Moms Demand Action
Civil Rights Leader Dolores Huerta
Attorney General Xavier Becerra
Los Angeles County Supervisor Hilda Solis
Councilmember Kevin de Leon