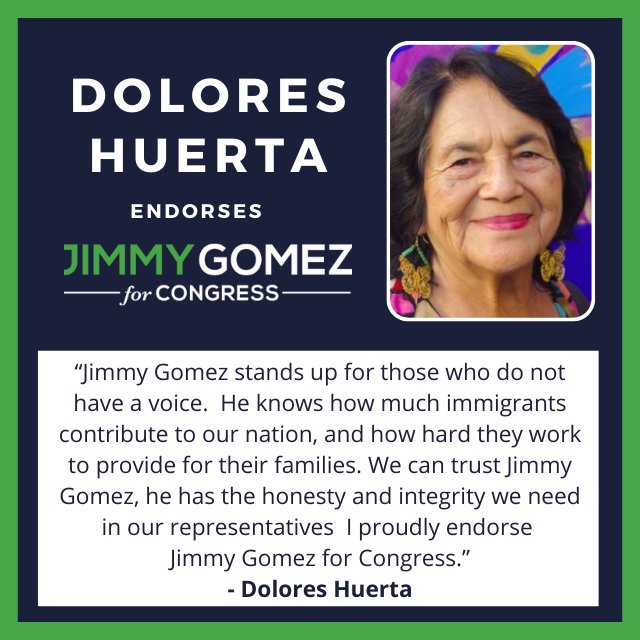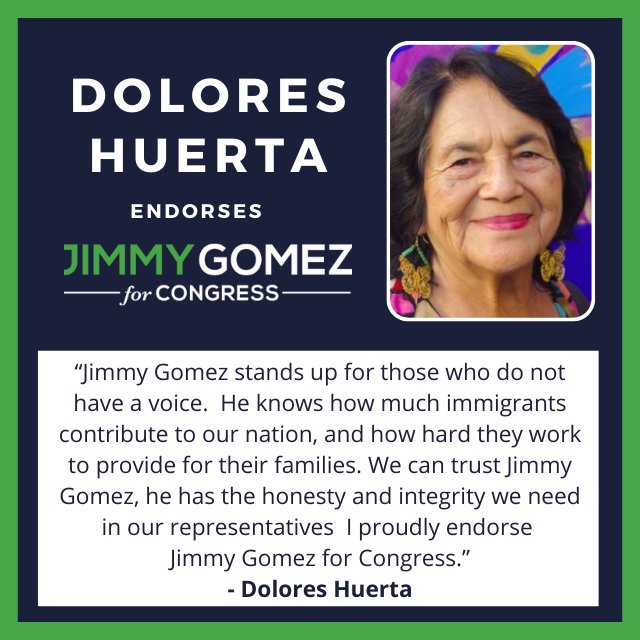 Los Angeles, March 22, 2022 – Congressman Jimmy Gomez continues to flex his muscle in the 2022 midterms, demonstrating the far reaching coalition of state and national progressive powerhouses supporting his campaign with his latest round of endorsements.
Headlined by famous labor and civil rights champion, Dolores Huerta, his latest announcements showcase a broad cross-section of critical Democratic and progressive political players lining up behind his campaign. In addition to the organizing icon of Huerta, Congressman Gomez earned official endorsements from his hometown Democratic club covering the critical and highly engaged voter hubs of Highland Park and Eagle Rock, along with national latino focused organization BOLD PAC.
The early show of strength continues to highlight Congressman Gomez's support from across all wings and corners of the 34th Congressional District, the Democratic Party, and the national progressive movement as a whole.
Dolores Huerta; Co-Founder of the National Farm Workers Association, President of the Dolores Huerta Foundation, and Civil Rights icon.
"Jimmy Gomez stands up for those who do not have a voice. He knows how much immigrants contribute to our nation, and how hard they work to provide for their families. We can trust Jimmy Gomez, he has the honesty and integrity we need in our representatives" said Dolores Huerta, "I proudly endorse Jimmy Gomez for Congress."
Northeast Democratic Club of Los Angeles; the oldest Democratic club in NELA, founded in 1955.
"Congressman Gomez has been a tireless fighter for the people of Northeast Los Angeles. From bringing the CalState COVID-19 vaccination site to our community, or fighting for our shared progressive values on issues ranging from climate change to healthcare, living wages, and so much more, we've always been able to count on Jimmy" said Michael Contreras, President of the Northeast Democratic Club. "As the oldest Democratic club in NELA, we know Congressman Gomez as our friend, neighbor, advocate, and it is our honor to stand with him and our community of Northeast LA in his re-election campaign this year."
BOLD PAC, is dedicated to increasing diversity in the House and Senate by getting more Latinos and Latinas elected.
"Throughout his entire life, Rep. Jimmy Gomez has fought hard to improve the lives of immigrant and working families. When it came to raising the minimum wage in California, Jimmy worked tirelessly to make sure it passed. In Congress, he helped author the expansion of the Child Tax Credit – one of our nation's most powerful poverty reducing tools – and passed the largest investment in affordable housing in history. BOLD PAC is proud to endorse Jimmy Gomez for reelection to California's 34th District," said ​​CHC BOLD PAC Chairman Ruben Gallego.
###