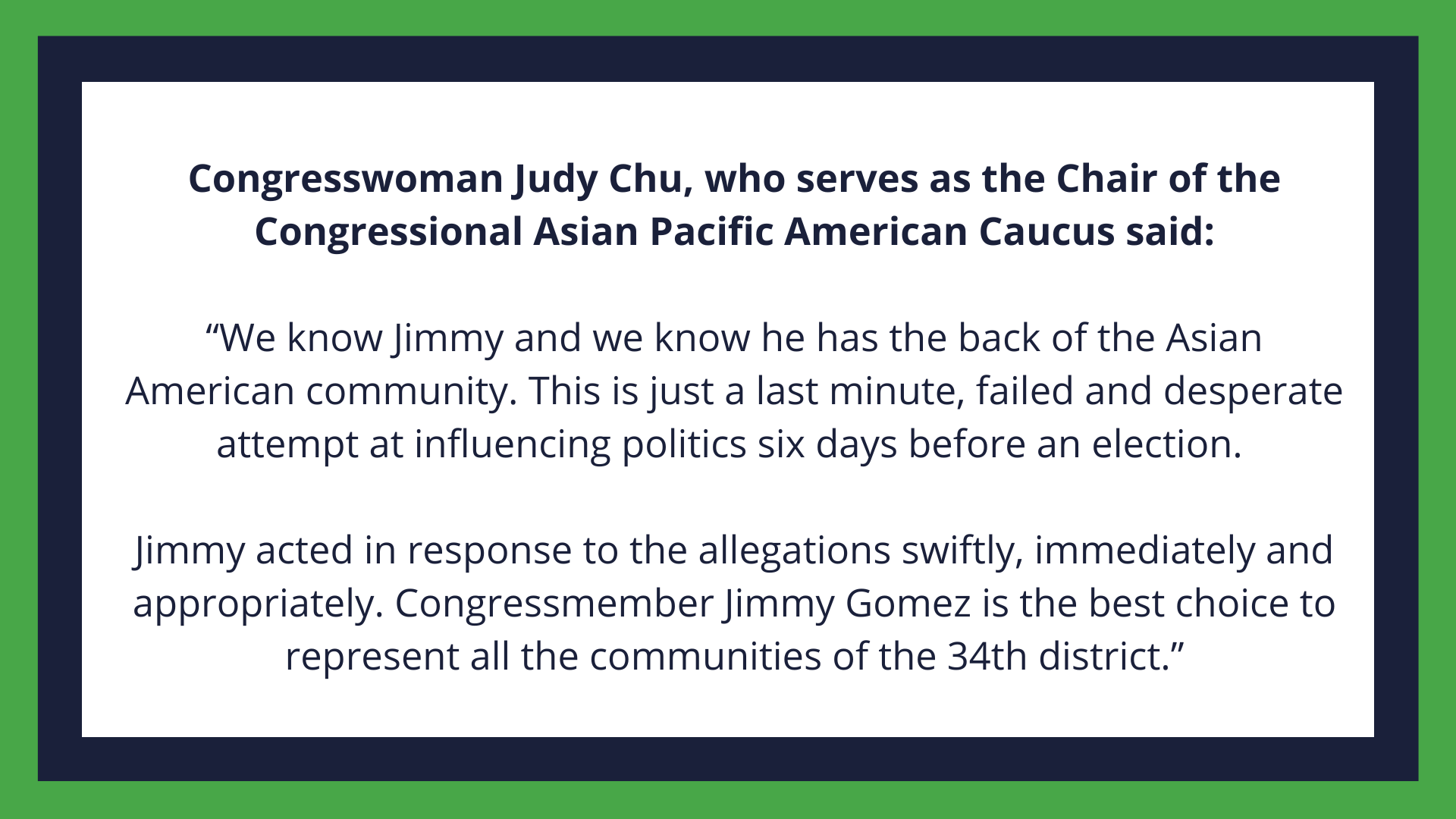 The Gomez for Congress Campaign issued the following statement:
"All anti-Asian language is unacceptable, which is why upon being notified of Councilmember-elect Hernandez's tweet regarding an interaction with a volunteer, Congressman Gomez called and texted her about the matter and immediately posted a public response condemning and denouncing the use of any anti-Asian or bigoted language."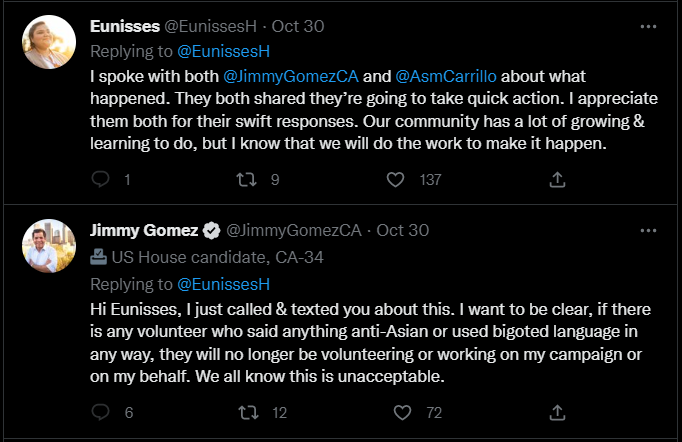 "An inquiry was opened immediately upon hearing of this issue. All the facts point to this being a volunteer who was not a regular part of the campaign, and is no longer involved with the campaign in any capacity. We have spoken with every member of our campaign since then to reiterate our position that any person using anti-Asian language or mentioning anyone's ethnicity is not permitted. We train our canvassers to focus on Congressman Gomez's life story, record, and legislative accomplishments for working people."
Congressman Gomez has broad support from the AAPI community. Congresswoman Judy Chu who serves as the Chair of the Congressional Asian Pacific American Caucus, said, "We know Jimmy and we know he has the back of the Asian American community. This is just a last minute, failed and desperate attempt at influencing politics six days before an election. Jimmy acted in response to the allegations swiftly, immediately and appropriately. Congressmember Jimmy Gomez is the best choice to represent all the communities of the 34th district."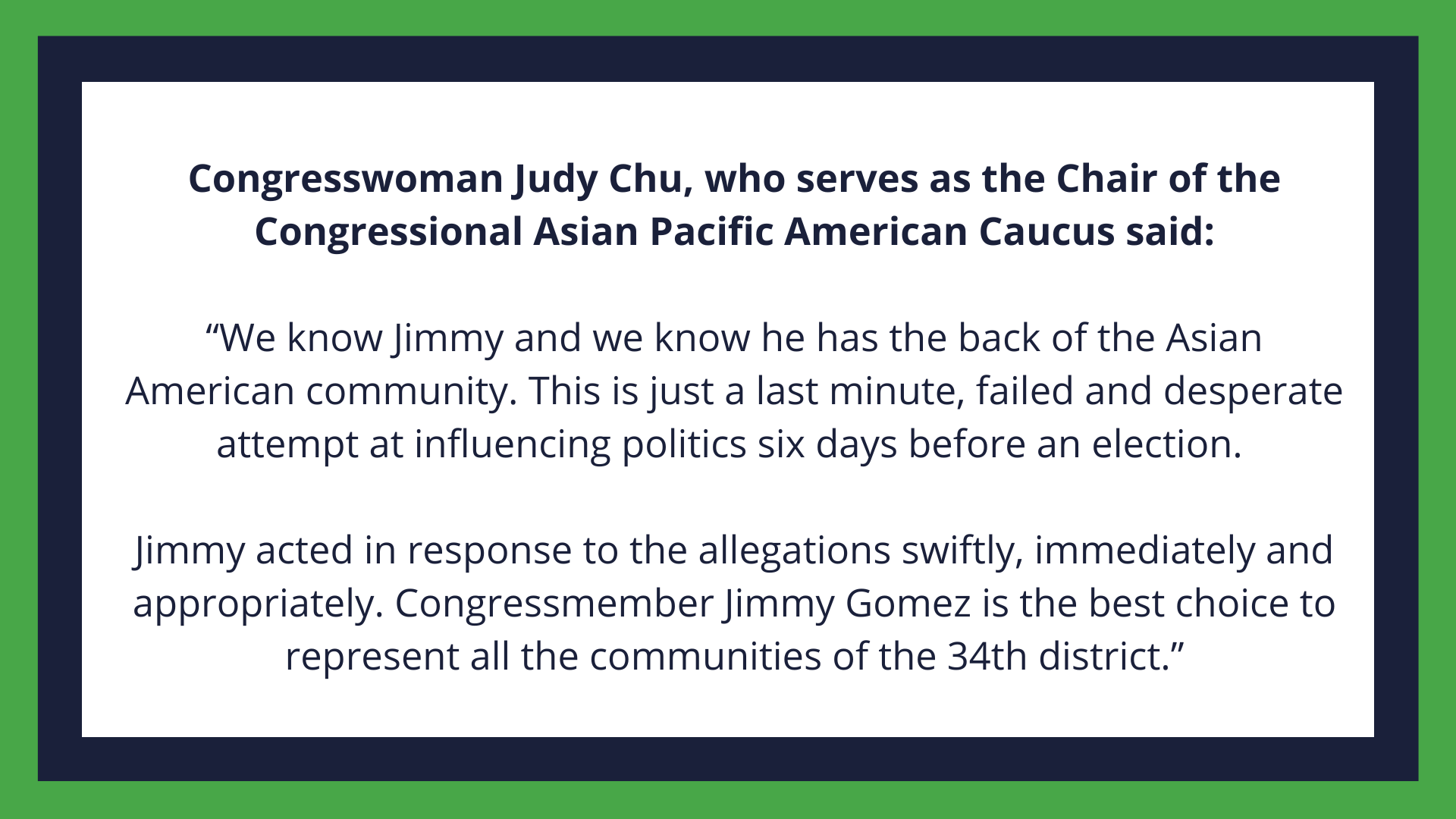 Additional Background:
On October 20, 2022, Congresswoman Karen Bass and Congressman Jimmy Gomez called on civic leaders from all over the city to initiate a plan of action to address the racist, anti-Black, anti-Semitic, anti-LGBTQ, anti-Indigenous, anti-Armenian recordings of LA city councilmembers. The announcement followed an initial meeting Bass and Gomez organized with civic leaders at LA Trade Technical College. In early 2022, Congressman Gomez created the CA-34 Congressional Task Force to Stop Anti-Asian Hate and Violence to address the rise in anti-Asian rhetoric and crimes, and will continue to work with city leaders and community members throughout the district, including Koreatown, to unite and heal our city. Congressman Gomez has earned the endorsement of Korean-American Congressman Andy Kim and Congresswoman Marilyn Strickland, as well as from Congress Members Ted Lieu, Pramila Jayapal, Mark Takano and California's Attorney General Rob Bonta.